Os-Ke-Wow-WOW!
I'll be the first to admit that I had my
doubts
about Ron Zook when he was hired to coach the Illini three years ago.
Well, I for one am ready to eat those words.
The rap on the man has always been "great recruiter, zero as a game coach." The first part of that equation has held true (much to the consternation of "the great" Charlie Weis), but yesterday laid the second part to a lie.
Illinois 28, #1 Ohio State 21.
Read it and weep, Brutus. Midguidedly blame it on the refs if you want, but this was an old-fashioned smashmouth beating, delivered by a team that was better prepared and, yes, better coached than yours.
All kinds of key stats, but here are just a few:
Zero Illinois turovers;
One Illinois penalty;
4th quarter time of possession: Illinois 13:46, Ohio State 1:14;
Illinois 28,

F

ormer

#1 Ohio State 21.
The game was won very simply. Nobody in the white unis was asked to do anything they weren't capable of doing. And in the final blood-draining drive, all that was asked was to block somebody and let Juice hang on to the ball. Four times in that drive Juice ran a keeper to get a first down. 4th & 1 inch, 3rd & 7, 3rd & 10, 3rd & 2. Each time the play call was right out of the 1912 smashmouth football playbook, and every time it worked.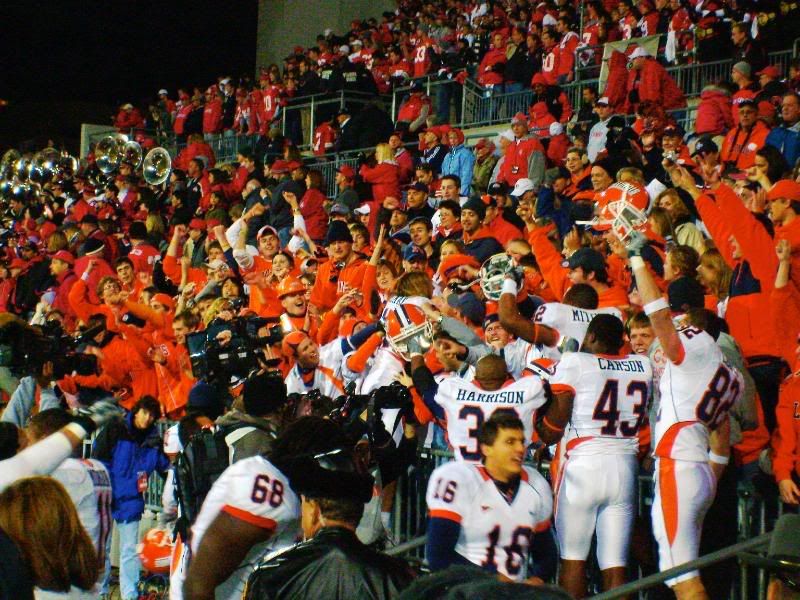 The reason? How about Illinois' players were just plain tougher than the vaunted Buckeye defense. Just plain tougher.
One of the biggest question marks going into a season full of question marks was the play of the O-line. Were they up to Big 10 standards? Yesterday answered that and how. The offensive line won the game by winning the line of scrimmage over and over and over again in the 4th quarter.
And that's it.
It was football at its most primitive, visceral level. The Illini were up to the task and the Buckeyes weren't.
I can't count the number of times the Illini have been on the receiving end of that 8 1/2 minute game-ending drive in the dark to close-out a tough home loss. To be on the dispensing end, to mete out that tough home loss to 100,000+ Buckheads? Nirvana.
Now, barring a letdown vs. Willy next weekend (always a possibility), it should be on to a New Year's Day bowl game. And who would have thought
that
three months ago?